Hatful of Rain Launch Third Album 'Songs of the Lost and Found' 01.07.2018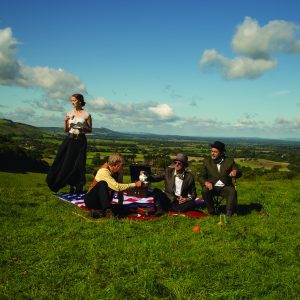 Official launch : Fri 13th July 2018 at The Old Market, Hove.
8.30pm (doors 7.45pm) Tickets £12
http://theoldmarket.com/shows/hatful-of-rain/


Fusing powerful song writing with musical flare, Hatful of Rain combine their English, Celtic and American inspirations to great effect on their new album. Titled 'Songs of the Lost and Found' the band's third album will be officially released on 1st July.
The album is full of original songs that speak of 'today'; responding to the modern world's experiences of loss, redemption, migration, identity and austerity. Musically the four-piece band blends seamlessly with a cast of additional musicians using their familiar line-up of voice, fiddle, mandolin, guitar and bass.
Formed in 2011, Hatful of Rain was quickly signed to the Folk/Americana label Union Music Store. The band's first album 'Way Up on the Hill', led to a session on the prestigious BBC Radio 2 Bob Harris Saturday show. A second album, 'The Morning Key' followed in 2014 and was warmly received by the roots music world with the Hatfuls nominated to perform at the Americana Music Awards in Nashville and as Best Group in the Spiral Earth Awards.
In 2016 the band set about exploring the music that had influenced them in their early musical careers. Released on their own label Long Way Home Music the EP brought together new arrangements of traditional UK and US songs.
Hatful of Rain will be on tour in June and July to support the release of 'Songs of The Lost and Found'. The band excel at live performance and have developed the blue grass harmonising style using one microphone for all four voices to create an intimate and engaging atmosphere.
ALBUM DETAILS
Track Listing
01 Start Again 4:47
02 Where There's Life 4:11
03 Devil's Dyke 4:48
04 Down In The Town 4:42
05 Won't Be Druv 2:57
06 Sinking Like A Stone 4:15
07 I Thought You Would Live 3:08
08 Gathering Wood 4:44
09 But For You 5:33
10 Ponderosa Pines 3:12
11 Oh The Night! 3:44
12 Collared Dove 2:13
Title        Songs of The Lost and Found
Artist     Hatful of Rain
Label     Long Way Home Music
Genre    Roots
Format CD & digital download
Cat No   LWHM 004
Hatful of Rain are:
James Shenton – Fiddle ,Piano ,Whistle
Chloe Overton – Vocal, Guitar, Mandolin, Banjo
Phil Jones – Double Bass, Banjo, Vocal
Fred Gregory – Guitar, Mandolin, Vocal
Produced by Hatful of Rain
Sleeve design SLMillustration
Photography Cain Suleyman
Recorded at Riverboat Recordings
Link tracks for review and listen :
http://www.longwayhomemusic.co.uk/press-page.html
Download link to full album :
https://www.dropbox.com/home/Songs%20of%20the%20Lost%20and%20Found
For a physical CD : Please contact Kairen or Stevie who will send you within 24 hours
On sale in record shops from 1st July 2018
Press images: http://www.hatfulofrain.co.uk/photos